Over the holiday break, we tried out a new boondocking spot for some epic FREE camping in California. The Upper Sweetwater campground is a developed BLM site just outside of King City and nearby to Pinnacles National Park.
This is an AMAZING spot for some dry camping that costs you absolutely nothing besides the gas/diesel that it takes you to get there! Unlike the Williams Hill BLM, which we reviewed earlier in 2019, this one has a nice paved road all the way up to the campground, so it is a piece of cake.
One of the really nice things about this one is just how big each of the spots are. There are only 6 spots, but each one can easily fit a giant 5th wheel or class a, no problems. Even if you have another trailer with toys or side-by-sides, you won't have any issues fitting in.
And, even though this isn't true boondocking, because this is "developed BLM land," there are only 6 spaces in the whole place and they are all nicely spread out and separated from each other, so you still feel like you're off the grid. Plus, during the week of New Years 2019, everybody left on New Years day, so we literally had the entire place to ourselves for several days in a row there.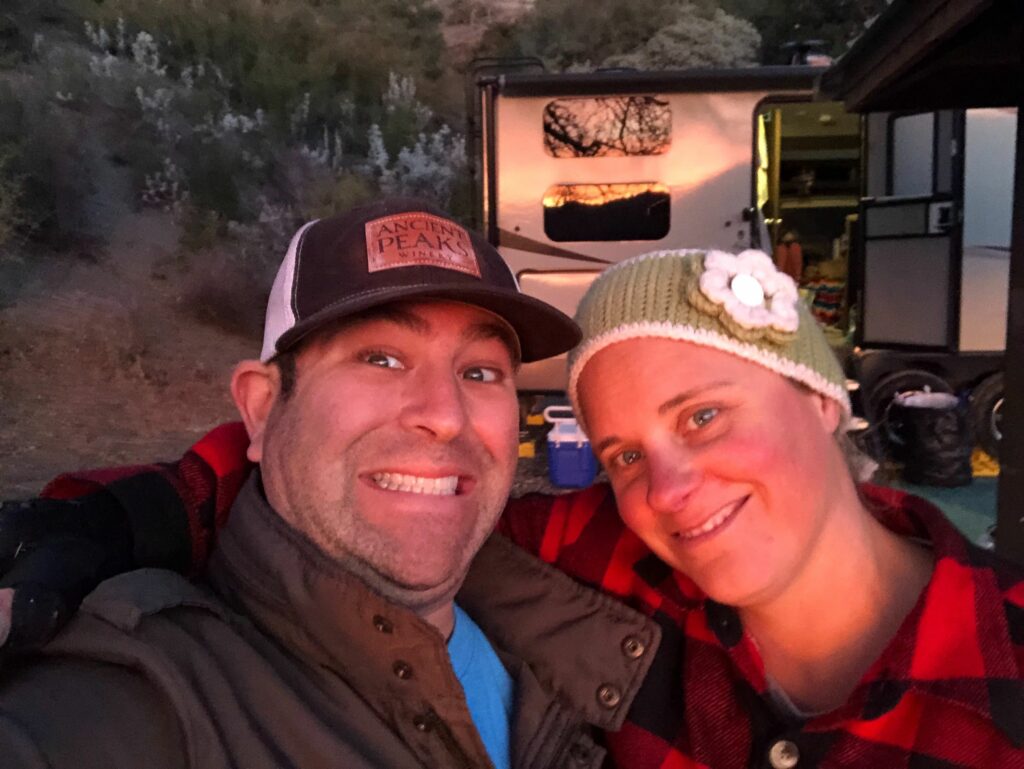 There is a ton of stuff to do in the area if you are an outdoor lover. There is the Upper Sweetwater trailhead right outside the campground and you can take that trail and connect with other trails to do a big loop, including the waterfall trails, which we didn't get a chance to go to because our kids couldn't make it all the way.
But there is also a lot of public land outside of the campground that is good for hunting, offroading, and nature watching. There's also the Clear Creek Water Management District lands, which you are also allowed to camp on, but you have to pay the district their pound of flesh ($5/day ). That is where a lot of the toy haulers that we saw were headed.
It did get a bit chilly at night, so make sure you bring plenty of propane, but the views out there were amazing. Every night, we had a ridiculous sunset, and there is virtually no light pollution so you can see a ton of stars!
Also, because it is BLM land, we were able to bring all of our dogs and since no one was around, we could just let them roam and explore off leash the whole time so they really enjoyed it too. We did as well–it's nice when the WHOLE family can come along for the ride.
For the most part, we just enjoyed some good quality family time. The kids got to practice their golf cart driving skills, because I am committed to making sure they aren't completely clueless behind the wheel when they eventually get their licenses. We also just hung out, listened to music, cooked a ton of bomb food, played Clue, Sorry, Yhatzee, War, and built some puzzles. All the good stuff that we never force ourselves to do at home. We also went out exploring a few of the days just to check out the area and stretch out our legs.
We usually try to explore new spots, so we rarely go back to the same place twice, but this one is so close to home for us and so peaceful and nice to visit that I know we'll be going back again. Highly recommend if you're up for some dry camping or just want to try something new. We didn't make it into the Pinnacles this time around because we had all of the dogs, so that is something that we'll make sure to do next time. Great spot for spending time with the ones that matter most, and THAT is #WhyWeWork!
See you on the next adventure!!
Support Us on Amazon: https://amzn.to/30tMCHX
Our Essential RV Gear: https://whyweworkchannel.com/amazon/
Rep the Merch: https://whyweworkchannel.com/shop/
Check out our website: https://whyweworkchannel.com/
Follow us on Facebook: https://www.facebook.com/whyweworkchannel
Follow us on Instagram: https://www.instagram.com/whyweworkchannel
Check out the rest of our videos: https://www.youtube.com/c/WhyWeWork
Follow us on Twitter: https://twitter.com/WhyWeWorkChnl
As an Amazon Associate we earn from qualifying purchases, which means we receive a small commission from sales of certain items, but the price is the same for you!