This week, we stuck closer to home at one of the most under-appreciated spots on the Central Coast. Santa Margarita Lake is a County Park just outside of the town of Santa Margarita in San Luis Obispo County!
There isn't much to this one in terms of amenities like playgrounds, or pools, or restaurants, but it makes up for it with spots that are right on the lake shore! This one is dry camping, so you need to bring all your fresh water, full batteries, and empty holding tanks. The good news is that there's a dump station literally right outside the gates at the Santa Margarita KOA (which we also reviewed previously) for a $20 day-use fee. Pretty steep, but you will probably save at least $10 by not having to haul full tanks home and it's a super easy in and out for the dump station.
They actually have 4 different loops at the park. Osprey is the one we stayed at, which is essentially just a glorified parking lot, but those are the ones that are right on the shore at the lake front, so you get amazing views with INSANE sunsets and sunrises!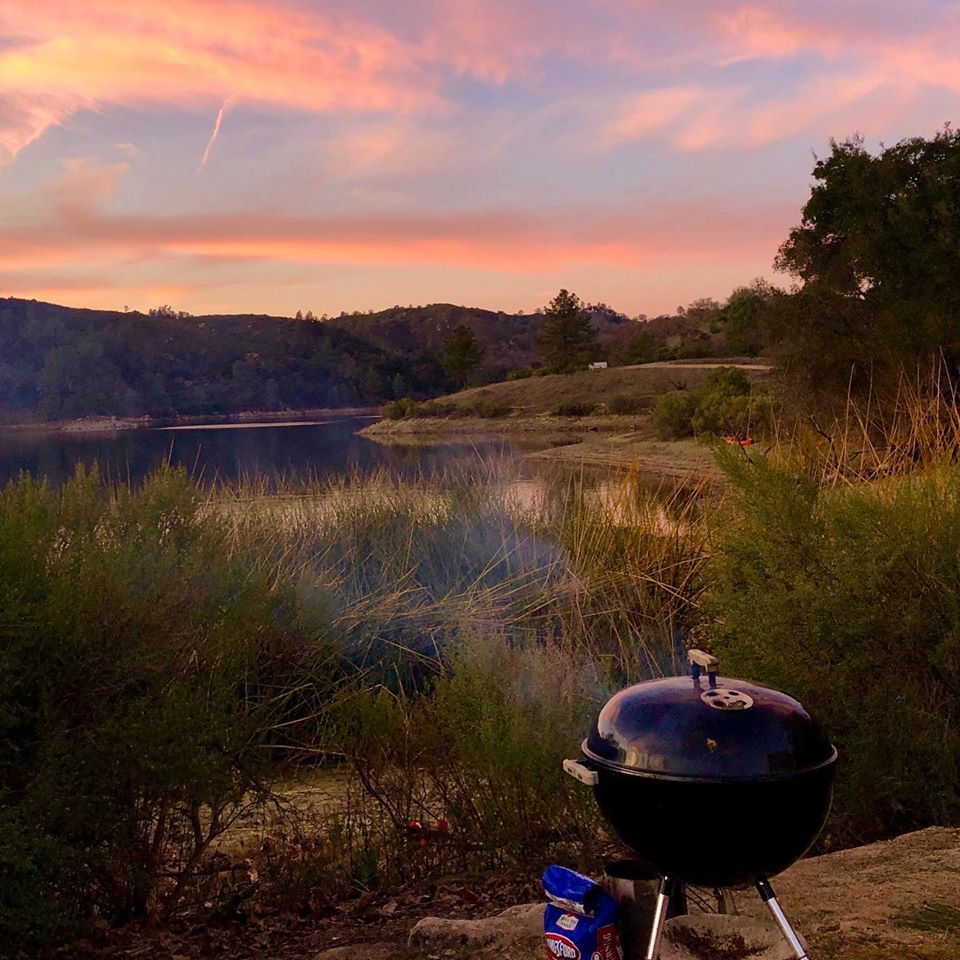 Then you have Coyote, which are nice and shady with trees and grass, but are set back so that it's a short walk down to the lake, but there are plenty of spots where you can drive down and park next to the lake. They also have RV spots right near the entrance, which are the furthest away from the lake, but I forget the name of that loop. Finally, they have a tents/tent-trailer/teardrop/rooftop-tent section called Roadrunner, which is adjacent to the Coyote loop.
The nice thing about the RV spots down in Osprey is that they are very large. I have a 33′ TT, but it easily has space for a much larger TT/Class A/5th Wheel. I know it says a max length of 30′ if you look online, but they didn't have any issues with us rolling in longer than that. I might call and check first if you're REALLY long. That said, we also had a ton of space for our truck and still have a lot of extra space for living, putting out bikes, bbqs, toys, fishing gear, etc. Very spacious!!
There's no swimming at the lake since it's a source of drinking water, but you are able to kayak, fish, drive boats, or float tube. There's also a ton of really good hiking trails as well as trails all around the lake front by Mackey Point and around the marina, so it's a lot of fun for the outdoor lovers! You can also go down to the KOA right next door if your kids get really bored and want to play on their playground, use their pool, or bounce on their jumpy pillow. That will cost you a $20 day-use fee, but we took the kids down there one day to burn off some energy.
Each spot has a fire pit and a picnic table, and if you are in Osprey, you can literally sit at your table lakefront and eat dinner watching those amazing colors as the sun sets over the hills. They are also really dog friendly, you just have to pay $3.50 per dog per night. But it is the perfect place for dogs because there are so many cool places to walk them!
They have a big launch ramp if you want to bring your boat, or you can rent a boat from the marina store, which had all of the essentials you might need in a pinch. It's also a short drive into Atascadero if you forget something and need to hit a Vons or something. Santa Margarita is also a really cute town with some cool antique shops, some nice restaurants, and one of our favorite wineries of all time–Ancient Peaks (highly recommend if you come to the area)!
We BBQ'd some ribs and a beer can chicken, did some serious relaxing, caught a few bass, and made some more fun memories. I even managed to chip off a few hundred pages of my book, so how can you beat that. All in all, we really recommend this place. If you're into the outdoors and don't need a ton of amenities, then this one will be right up your alley. Even the drive out there is amazing with the beautiful oaks and rolling hills that are so stereotypical of north county SLO. For us, it has everything we could want so we will definitely be heading back with the ones that matter most because THAT is #WhyWeWork! See you on the next adventure!!
Support Us on Amazon: https://amzn.to/30tMCHX
Our Essential RV Gear: https://whyweworkchannel.com/amazon/
Rep the Merch: https://whyweworkchannel.com/shop/
Check out our website: https://whyweworkchannel.com/
Follow us on Facebook: https://www.facebook.com/whyweworkchannel
Follow us on Instagram: https://www.instagram.com/whyweworkchannel
Check out the rest of our videos: https://www.youtube.com/c/WhyWeWork
Follow us on Twitter: https://twitter.com/WhyWeWorkChnl
As an Amazon Associate we earn from qualifying purchases, which means we receive a small commission from sales of certain items, but the price is the same for you!