This time, we're changing it up with something different than your normal camp cooking fare. Pork fried rice is one of our favorite meals to do when we go camping! It's easy to make, cooks quickly, tastes bomb, and the kids love it!
The first thing you want to do is get your pork loin up to room temperature and then pat it totally dry with paper towels to get rid of all of the excess moisture. Then you can go ahead and run it down with your favorite rub. We used our standard homemade run of equal parts brown sugar, salt, and paprika with a half part of black pepper, but you can use anything you like! After that sits for about 30 minutes (and you can let it soak in while you get your grill ready to go), go ahead and cook that over high heat for about 8-10 minutes per side. You want some nice charring and for the meat to be cooked all the way through.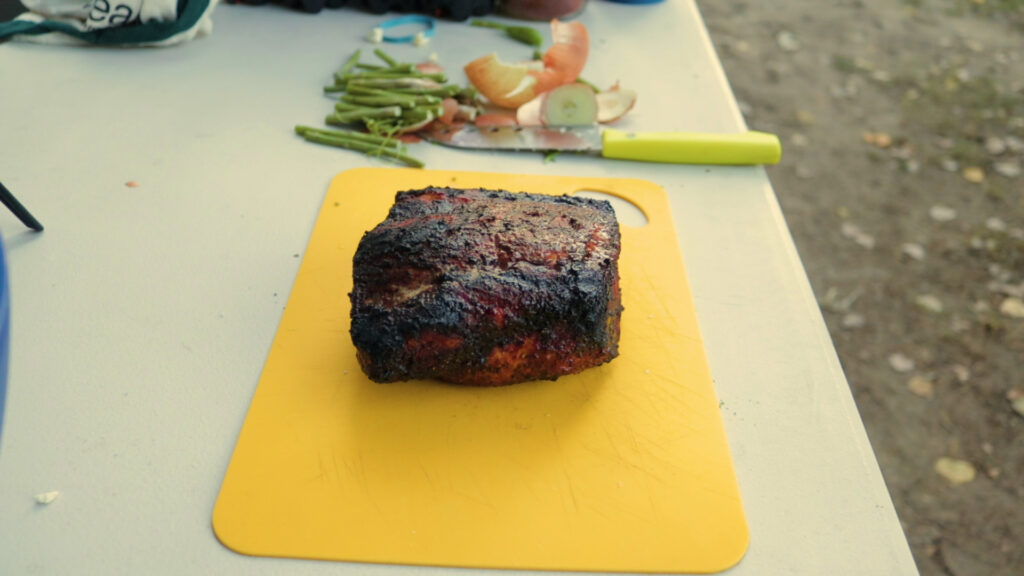 Once you get that set aside, you can start to prep all of your veggies. Again, this one is so cool because you can do whatever works best for you. We did a mix of carrots, corn, onion, cauliflower, mushrooms, and snap peas, but you can really go with whatever works best for your family. Get those all cut up into 1/2-1″ chunks and set them aside.
Now, before you go ahead with cooking all of the veggies, make sure to get your rice done first. You want it to be ready to go and still pretty hot by the time your veggies are done so the combined heat of the rice and veggies together make sure the egg gets cooked through all of the way at the end. This is another case where the Blackstone Tailgater works out great because it has the griddle side for you to do all the frying/griddling of the veggies and meat, but then you can use the burner side to first grill off the meat and then do the rice outside right next to it!
As the rice is finishing off, you can go ahead and get started on the fun part! Get the griddle nice and hot. Throw down some olive oil and then throw all of the veggies on there to get cooked and add some nice color! Once the veggies are about 3/4 of the way there, throw that pork back on to warm through. You're on the home stretch now!

Now dump that rice all over the veggies/meat and give it a good stir to combine everything together. Then take a few scrambled eggs (2-4 depending on how much food you're cooking/how many people you are feeding), and what we like to do is make a little hole in the middle to pour the eggs into so they can start to cook. Leave them in the middle there until they start to get some shape to them when you poke them a bit. Once they're starting to solidify a bit, then you cut the power on the Blackstone and mix them in with the rest of the food. That's the secret to a good fried rice–let the heat of the rice and veggies cook the egg the rest of the way through. After that, just sprinkle on some soy sauce or your favorite sauce/seasoning and enjoy!
That's it! Super easy and something a little different that is quick and fun to make. Most importantly, you're kids are going to love it (the adults will too). Nice to change it up every once and a while besides just grilling or smoking or doing burgers. Highly recommend you give this one a shot. Making bomb food while you're making those memories with the ones that matter most is always one of the best parts of camping, and THAT is #WhyWeWork! See you on the next adventure!
Support Us on Amazon: https://amzn.to/30tMCHX
Our Essential RV Gear: https://whyweworkchannel.com/amazon/
Rep the Merch: https://whyweworkchannel.com/shop/
Check out our website: https://whyweworkchannel.com/
Follow us on Facebook: https://www.facebook.com/whyweworkchannel
Follow us on Instagram: https://www.instagram.com/whyweworkchannel
Check out the rest of our videos: https://www.youtube.com/c/WhyWeWork
Follow us on Twitter: https://twitter.com/WhyWeWorkChnl
As an Amazon Associate we earn from qualifying purchases, which means we receive a small commission from sales of certain items, but the price is the same for you!